MULTIMEDIA MUSICAL SHOWS
For senior communities I have created a dozen, fun and interactive shows that feature songs, humor, sing-alongs and projected images---based on themes.  Most shows are one hour in length, but all of them can be shortened or extended, based on your needs.  I can also create a custom program for you and your event.  You can view an example video from my show "Aging to Perfection" at the bottom of this page.
In the right settings at a winery or night club, I perform special multimeida shows more fitting to those audiences in terms of song selection and humor.  
Below are my current titles with some of the songs included in each.  I bring all my own sound, multimedia and light gear, and it sets up quickly in a space just 10 feet x 8 feet. 
In addition to hundreds of performances in Oregon, I have done shows in 22 states on a national tour in 2015.  In 2017 I also performed my "On the Horse" program on a tour in Scotland and Ireland.   
ON THE HORSE    The singing cowboy era comes alive!  Cool Water, Tennessee Stud, Back in the Saddle Again, Texas Plains, Home on the Range, Rawhide, Riders in the Sky, Happy Trails and more. I wear classic cowboy attire for added affect.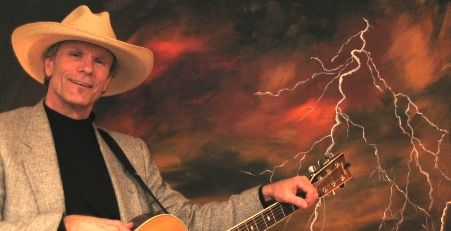 DOGS, CATS & KIDS    Three lovable topics combined into a fun show.  How Much is that Doggy In The Window?, Tom Cat Blues, Teach Your Children, Would You Like to Swing on a Star?, Hound Dog and many more.
AGING TO PERFECTION    A respectful yet playful look at the Golden Years presented by a 67 year-old guy.  Humorous observations, stories and songs about senior recreation, travel, doctor visits, nutrition and romance.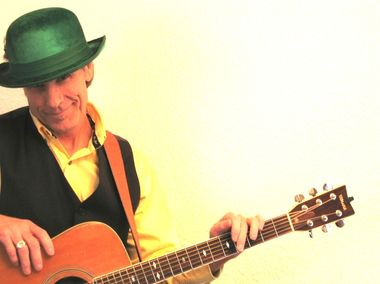 A WEE BIT O' IRISH FUN  I play Irish classics for sing-alongs, and enjoy poking fun at my Irish heritage in this March show that includes My Irish Eyes are Smiling, Harrigan, Wild Irish Rose, Danny Boy, Molly Malone and other favorites.   It also includes photos from my 2017 musical tour of Ireland.
HALLOWEEN HOWLS   Lots' of treats, and a couple of tricks too!   This show features great Halloween tunes like Monster Mash, Spooky, Little Red Riding Hood---and lots of candy-corny jokes and stories about this fall holiday.
ON THE MOVE   Let's take a trip across our beautiful nation in cars, trucks, taxis, boats, planes and trains.  On the Road Again, Route 66, King of the Road, Me & Bobby McGee, Country Roads, Cab Driver, Rollin' In My Sweet Baby's Arms, Proud Mary and more tunes about traveling.
HOOTENANNY    A full program of folk and Americana songs in the tradition of the great sing-along events of the 1960's.  A time when auditoriums, schools and churches were filled with voices of the audience joining in with great acts like Peter, Paul & Mary, Pete Seeger, Bob Dylan, and the Kingston Trio.  Lyrics appear on the screen to classics like This Land is Your Land, If I Had a Hammer, Puff the Magic Dragon, Where Have all the Flowers Gone?, and more. 
LEGENDS   Pairs of hit songs from country, pop and jazz legends such as Willie Nelson, Eddie Arnold, Jim Croce, John Denver, Leonard Cohen and more.  I share stories about the origin of some songs, and some history about each artist.  Lots of sing-alongs too!   
GOLF IS A FUNNY GAME   I have taken up golf, and I've had fun laughing at myself and my buddies flailing away on courses.  And, I've discovered a bunch of fun songs, stories, jokes and images that match the topic. Perfect for dinner shows at country club social gatherings. 
ON THE BEACH    It's always fun to go to the beach--even in your mind.   Classic tunes about the tropics and sunny weather by Don Ho, Jimmy Buffett, Elvis Presley, Harry Nillson, the Beach Boys, the Ventures and others.  A great chance to warm up a room with tropical decorations, and the audience gets a kick out of wearing Hawaiian clothing.  Ukulele songs too!
L.O.V.E.    Sentimental and playful material about the wonders of love; perfect for February!  Annie's Song, L.O.V.E., Don't Fence Me In, Love Potion #9, So Round So Firm So Fully Packed, It Had To Be You, Hey Good Lookin' and much Amore!
ON THE STRIP    Hit the Vegas strip, do a little gambling and get nutty.  The Gambler, Viva Las Vegas, Ain't Misbehavin, I Feel Lucky, Stagger Lee, House of the Rising Sun, The Deal, and other tunes about gambling and Vegas entertainment.        
HOLIDAY HOOTENANNY   Let's go caroling!  Holiday songs and stories to bring cheer to one and all.  Have Yourself a Merry Little Christmas, I'll Be Home For Christmas, Winter Wonderland, We Wish You a Merry Christmas, Rudolph the Red-Nosed Reindeer, Frosty the Snowman and other favorites with lyrics on the screen for singing along!